This page is temporarily not available. Please check later as it should be available shortly. If you have any questions, please email customer support at support@zacks.com or call 800-767-3771 ext. 9339.
Belden CDT, Inc. (

BDC

-

Snapshot Report )

.

Background

Belden CDT, Inc. is one of the largest U.S.-based manufacturers of high-speed electronic cables and focuses on products for the specialty electronics and data networking markets, including connectivity.

Full Analysis

On Feb 8, Belden CDT reported fourth-quarter earnings per share of 46 cents, up 48.4% from the same quarter last year. Revenues increased 14% to $378.8 million from $331.5 million in the year-ago period.

Technical Analysis

When BDC was first selected as a Zacks Momentum Stock of the Day on Jun 6, 2006, the commentary mentioned that BDC had a history of beating the general market. That trend has continued, with BDC up 135% since it was featured. In addition, the company has outperformed the general market the last four years and is currently up 25.7% for 2007.

On Tuesday, BDC set a new six-and-one-half year high on more than twice normal volume. In fact, Tuesday's close was the highest close since Sep 27, 2000. With the stock up significantly since its first Zacks feature, and already up more than 27% for 2007, is there still any real upside potential? Seasoned Momentum investors know that stocks with strong underlying uptrends, like BDC, are more likely to continue to move higher than to suddenly reverse. With upside resistance nearly seven years old, it's not likely to be very potent today. So long as BDC can continue to increase earnings, the stock should continue to move higher.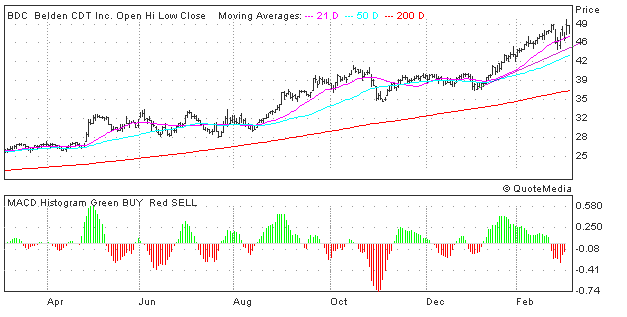 Read/Post Comments (

0

) | Recommended this article (

0

)
Please login to Zacks.com or register to post a comment.