This page is temporarily not available. Please check later as it should be available shortly. If you have any questions, please email customer support at support@zacks.com or call 800-767-3771 ext. 9339.
Diana Shipping (

DSX

-

Snapshot Report )

is increasing the pace of its uptrend.

Background

Diana Shipping Inc. is a global provider of shipping transportation services. They specialize in transporting dry bulk cargoes, including such commodities as iron ore, coal, grain and other materials along worldwide shipping routes.

Full Analysis

On Feb 21, Diana Shipping reported earnings of 37 cents for the December 2006 quarter, up 8.8% from last year and a positive 2.8% surprise above analysts' consensus estimates. Sales grew 46.6% to $35.18 million and income rose 39.8% to $19.43 million.

Technical Analysis

Diana has been in an uptrend since the stock bottomed out on Jun 9, 2006 at $9.50. DSX crossed the 200-day moving average to the upside for good on Aug 25 and has had relatively few corrections since that time. After release of the December earnings report on Feb 21, the stock set a new 52-week high on more than twice normal volume.

So what should a Momentum trader look for when reviewing a stock in a well behaved uptrend like DSX? First, look at the average daily range size. Increases in the daily range, particularly over a period of a week or so, indicates a change in the velocity of the uptrend. Buyers are growing more aggressive and are showing signs of impatience with the current pace. Gaps are another indicator of increased velocity. In essence, gaps are highlighting a disparity between the aggressiveness of the buyers and the sellers as much as they highlight a disparity in the numbers.

Right now, DSX is increasing the pace of its uptrend. While there are no indications yet that the uptrend is losing any momentum, veteran Momentum traders will keep a close eye on the performance of the stock with a particularly careful watch for signs that normal corrections are signaling a change of direction. Among these signs are failures to set new highs after a correction, violation of important support zones, or a crossing to the downside of the 200-day moving average.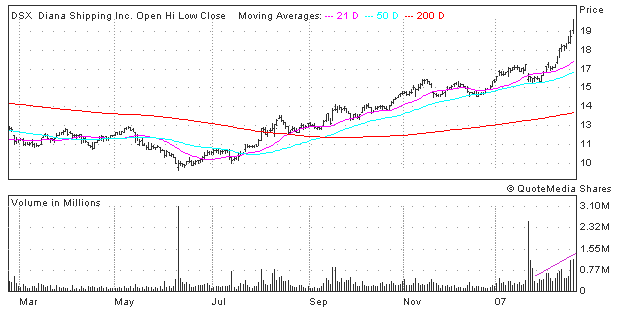 Read/Post Comments (

0

) | Recommended this article (

0

)
Please login to Zacks.com or register to post a comment.