This page is temporarily not available. Please check later as it should be available shortly. If you have any questions, please email customer support at support@zacks.com or call 800-767-3771 ext. 9339.
Mattel (

MAT

-

Analyst Report )

, the uptrend remains in effect.

Background Mattel, Inc. designs, manufactures and markets a broad variety of family products on a worldwide basis through both sales to retailers and direct to consumers. Mattel's business is dependent in great part on its ability each year to redesign, restyle and extend existing core products and product lines, to design and develop innovative new products and product lines and successfully market those products and product lines.

Full Analysis

On Jan 29, Mattel reported fourth-quarter earnings of 75 cents, up 29.3% from the same quarter last year and a 13.6% positive surprise above analysts' expectations. Sales were $2.11 billion, a 14.7% increase from $1.84 billion last year. With this report, MAT has exceeded analysts' estimates in the last three quarters.

Technical Analysis

Mattel's current uptrend began on the morning of Jul 17, 2006 when the company reported results for the Jun 2006 quarter. The reported represented a 100% positive earnings surprise and the stock gapped higher on the open, closing 11% higher. In the process, MAT crossed above its 200-day moving average. Since that time, the stock has gained 73%.

MAT set its recent high on Feb 21 at $27.47 and has since sold off approximately 7.5%. Like most other stocks, MAT was adversely impacted by the general market sell-off on Tuesday. The stock remains well above its 200-day moving average and has strong support at $24.00. Momentum traders believe that the uptrend remains in effect so long as the stock does not violate important support or cross below the 200-day moving average.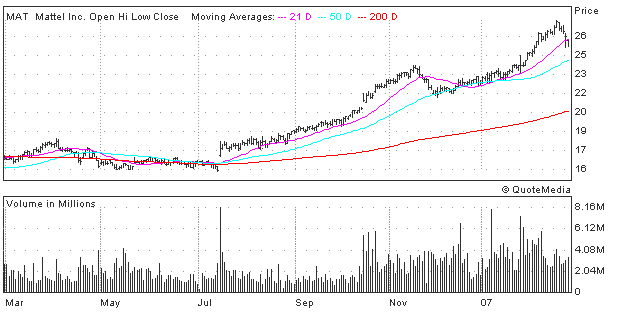 Read/Post Comments (

0

) | Recommended this article (

0

)
Please login to Zacks.com or register to post a comment.