This page is temporarily not available. Please check later as it should be available shortly. If you have any questions, please email customer support at support@zacks.com or call 800-767-3771 ext. 9339.
Cooper Tire and Rubber (

CTB

-

Analyst Report )

a dramatic turnaround.

Background

Cooper Tire & Rubber Company specializes in the manufacture and marketing of automotive products. Products for Cooper's Tire Group include automotive, motorcycle and truck tires, inner tubes, tread rubber and equipment. In the Automotive Group, Cooper is an original equipment supplier of sealing, trim, NVH control systems and fluid handling systems for the automotive industry in North America, Europe and South America.

Full Analysis

On Mar 1, Cooper Tire reported fourth-quarter earnings at 33 cents per share, a 1,200% positive surprise above analysts' expectations. Net sales increased 29% to a new quarterly record. This was CTB's second straight quarterly positive earnings surprise.

Technical Analysis

Cooper Tire has been in either a long-term downtrend or an intermediate uptrend, depending on your timeframe. CTB topped out at $25.42 on May 10, 2002. From that point, CTB gave up nearly 70% of its value falling all the way down to $7.71 on Aug 10, 2006. Since then the stock has rallied 141% to Friday's close of $18.63.

CTB is an example of a dramatic turnaround story. Visibly on the chart, this is a clear example of a 'V' formation bottom. True 'V' formations are rare, as companies rarely have dramatic changes in fortune. In CTB's case, the company went from a history of missing analysts' consensus estimates to two consecutive quarters of positive earnings surprises. Usually this type of a 'V' bottom is a very potent indicator, visual evidence of a dramatic turnaround in the company's fortunes.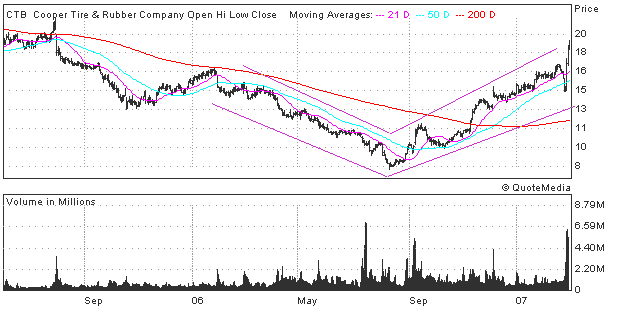 Read/Post Comments (

0

) | Recommended this article (

0

)
Please login to Zacks.com or register to post a comment.