This page is temporarily not available. Please check later as it should be available shortly. If you have any questions, please email customer support at support@zacks.com or call 800-767-3771 ext. 9339.
Deckers Outdoor Corporation
(
DECK
-
Analyst Report
) is up 14.6% after reporting a 51-cent positive earnings surprise for the fourth quarter. The surprise, coupled with recent earnings revisions, should keep the Zacks #1 Rank stock in a strong upward trend.
Full Analysis
Deckers Outdoor Corporation designs, manufactures, and markets innovative, function-oriented footwear and apparel that have been developed for high-performance outdoor, sports and other lifestyle related activities, as well as for casual use. The company operates three global brands including: TEVA Footwear, UGG Australian Footwear, and Simple Shoes.
Deckers reported outstanding fourth-quarter and full-year earnings results on Feb 27. The company posted EPS of $1.82 for the quarter, up 94% from last year and 51 cents above expectations. Also, revenues rose 36.7%, with solid contributions from all brands.
Full-year results were equally impressive as revenues increased 15% to $304.4 million, driving a 33% rise in EPS to $3.30. Decker also reported a higher gross margin of 46.4%; however, the company expects a more sustainable 44% for 2007. Lastly, cash and short-term investments rose to $98.9 million, up 86% from the prior year.
Prior to the earnings announcement, analysts increased their full-year profit projections by three cents to $3.09. Shortly thereafter, they boosted estimates again by an additional 35 cents. As testament to the company's strong fundamentals, Zacks currently ranks Deckers number one out of 12 companies in the Shoes and Related Apparel category. The company also has a strong track record of positive earnings surprises, with only one miss in the last 16 quarters.
Concern of late has centered on Deckers' ability to maintain the popularity of the UGG brand, which comprised 88% of total quarterly revenues. UGG also reported sales growth of 40% for the quarter, well above the other brands. While having your eggs in one basket is risky, especially for retailers, the strategy has worked for Deckers as UGG appears to be establishing itself as a successful long-term brand.
After a severe decline in 2005, DECK soared 117% the following year and is currently up 16% for 2007, well above the S&P 500. The stock has maintained a strong uptrend since overcoming resistance in October and is currently trading at 52-week highs. So how high can we expect this stock to go? Momentum investors know that trending stocks with increasing volume and upward earnings revisions should continue to move higher. With a 51-cent surprise, 35-cent earnings revision and increases in on-balance-volume, DECK should continue to outperform.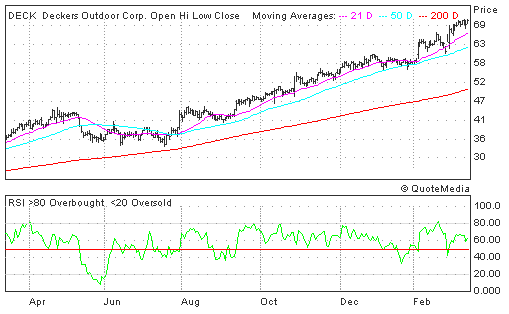 Read/Post Comments (

0

) | Recommended this article (

0

)
Please login to Zacks.com or register to post a comment.