This page is temporarily not available. Please check later as it should be available shortly. If you have any questions, please email customer support at support@zacks.com or call 800-767-3771 ext. 9339.
INX Inc.
(
INXI
) has reported three consecutive earnings surprises, helping to fuel momentum that has pushed the stock to 52-week highs on stronger-than-average volume.
Full Analysis
INX Inc. provides Internet protocol (IP) communications solutions in the US. Its solutions include design, implementation and support of local area network/wide area network routing and switching, IP telephony, voice-over IP, network security, network storage and wireless networks. The company offers a suite of technology solutions that support the entire life-cycle of IP communications. INX also designs, implements and supports the IP network infrastructure with emphasis on the call flow, messaging and enablement layers that include network embedded services, such as wireless, data management, security, encryption, filtering and packet-shaping.
On Mar 6, this Zacks #1 Rank stock reported fourth-quarter earnings of 11 cents per share, up from eight cents in the prior-year quarter and eight cents above expectations. Driving the earnings growth, revenues rose 87% to $45.8 million. Products revenue jumped 96% to $39.8 million, while services revenue rose by 43% to $6.0 million.
For 2006, annual revenue rose by 45.4% to $156 million, driving EPS to 21 cents, up from a loss of 86 cents in 2005. Products revenue increased 43.1%, while services revenue soared 62.3%. Mark Hilz, President and COO commented, "The number of customers INX serviced in 2006 increased 32% to over 1,500 individual customers, while average revenue per customer also increased in 2006, a trend that we believe will continue as we increasingly serve national-level customers."
INX has surpassed analyst estimates for three consecutive quarters, two of which were triple-digit surprises! As a result of the consistent earnings momentum, full-year earnings estimates were recently boosted by 18 cents to 55 cents. In addition, Zacks ranks the company a number one out of 112 companies in the Computer Software category, which itself ranks 81 out of 217 industries.
While INXI struggled in 2004 and 2005, the company rebounded in 2006 and outperformed the market by 28 percentage points. Year-to-date, INXI has soared, rising over 55% and smashing the market indices. The stock is currently trading at 52-week highs, above the 21-day, 50-day and 200-day moving averages, on stronger-than-average volume. INXI is exhibiting classic momentum characteristics and should continue to trend higher.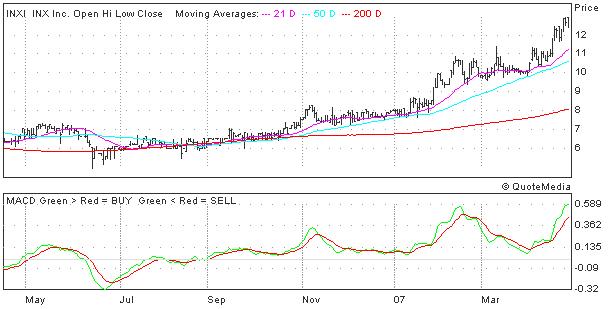 Read/Post Comments (

0

) | Recommended this article (

0

)
Please login to Zacks.com or register to post a comment.