Fellow Investor,
My name is Kevin Matras. When I came to Zacks in 2000, I thought I was a pretty smart investor. My portfolio showed a lot of hits and, yes, some misses too. The hits were surely due to study and savvy. The misses were purely due to bad luck, or were they?
Like millions of investors, I made stock decisions influenced by earnings growth. The greater the company's growth rate the more promising the stock.
But I was living in the past and so perhaps are you.
Soon after arriving at Zacks I saw that stock investing decisions should be based not on past earnings but on future earnings, more specifically on Earnings Estimate Revisions. This is the most powerful force impacting stock prices.
That single idea changed my investing life. Today, it can change yours, too.
It's simple enough to look up a stock's Zacks Rank and see where analysts believe its earnings are headed. But do you know how to use that rating to its utmost? Can you filter down 220 Strong Buys to find a small, investable number of market-beaters that best fit your trading style and goals?
In your own home. On your own time. At your own pace.
Starting now, I invite you to learn the Zacks Method for Trading. You can master its secrets for transforming your stock portfolio in mere weeks, a few bites at a time. Some folks even do it in one sitting. They go through the step-by-step workbook and videos without stopping. It only takes a few hours.
Even more remarkably, once you know the Zacks Method, you can apply it to evaluate and shape your portfolio in as little as 10 minutes a month.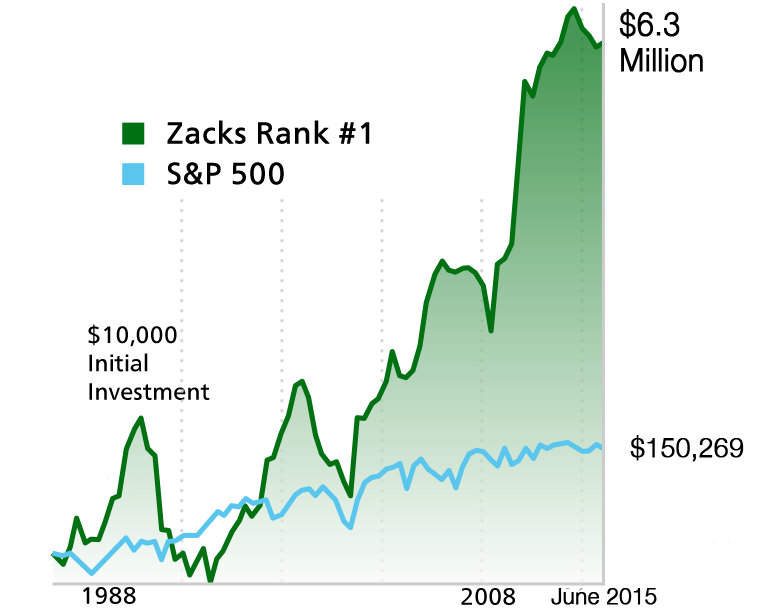 The stakes are high.
The rewards are lifelong and substantial.
For example, if you had invested $10,000 in the S&P 500 in 1988, rebalancing monthly and not counting fees, you would have more than $150,000 today.
But suppose instead you had put that same $10,000 into our Zacks Rank system.
By now, it would have compounded into a life-changing sum of more than $6 million dollars.
During that quarter century, even through recessions and corrections, Zacks Rank #1 stocks have averaged +26% per year. This performance has been examined and attested by an independent accounting firm.
Which trading style is best for you?
In this program, you can immediately access today's stock picks from Zacks Rank-based winning strategies for every major style of investing. You will also receive each strategy's "secret sauce" so you can find its picks whenever you need them. For example: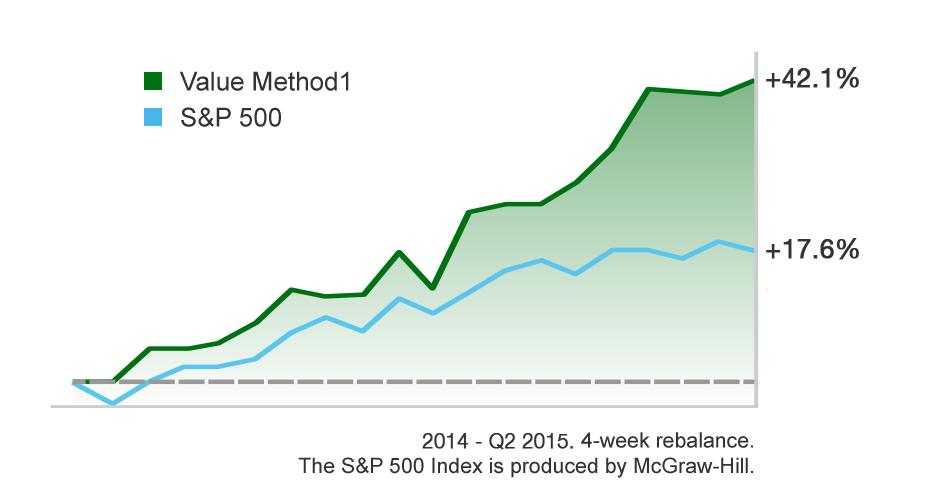 Value Method1 starts off with our special blend of valuation metrics to drill down to those undervalued gems. Then it uses the spark of the Zacks Rank to detect sharp upward earnings estimate revisions just as the market begins to recognize their true worth. From 2014 through Q2 2015, with 4-week rebalancing, the S&P 500 reached a +17.6% total return, while the Value Method1 strategy produced +42.1%.
Of course, all the stocks aren't winners, but here are a few examples of recent gains with four-week holding periods:
+17.0% Hawaiian Holdings (HA)
+29.0% Cascade Micro (CSCD)
+16.0% Express (EXPR)
Big Money Zacks is a momentum-style strategy that identifies some of the strongest price performers over the last 1, 3, and 6-month time frames. It aims for outperformance every step of the way. These stocks are also still trading at bargain levels as defined by our time-tested, all-time favorite value criteria, so these fast moving stocks have even more incentive to go up. From 2014 through Q2 2015, with weekly rebalancing, the S&P 500 reached a +17.6% total return, while the Big Money Zacks strategy produced +86.6%
Recent examples with just one-week holds:
+14.1% Sony (SNE)
+28.4% Covenant Transportation (CVTI)
+15.1% Trinseo (TSE)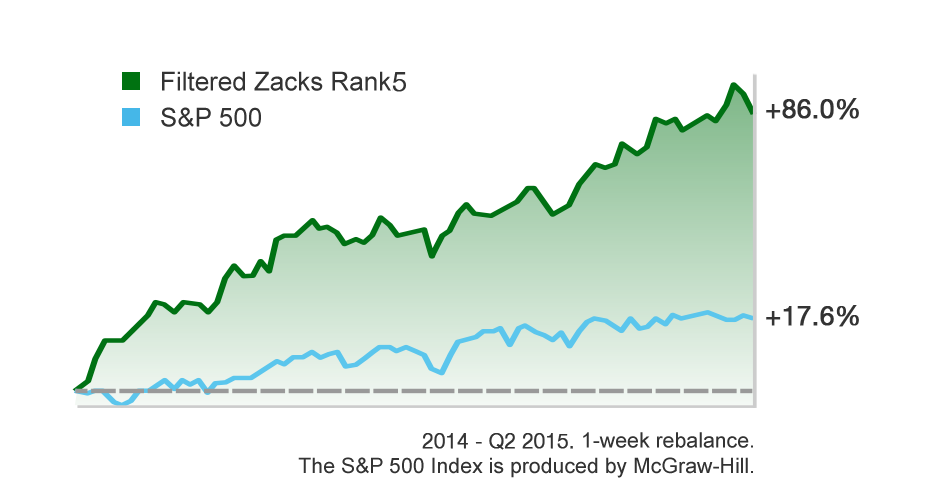 Filtered Zacks Rank5 is a pure growth strategy that narrows down the full Zacks #1 Rank list to an easily manageable and tradable 5 stocks. It adds two special filters that key in on broker rating upgrades and analyst revisions for results that far surpass the market. From 2014 through Q2 2015, with weekly rebalancing, the S&P 500 reached a +17.6% total return, while the FZR5 strategy produced +86.0%.
Recent examples with just one-week holds:
+14.2% Lannet (LCI)
+13.6% Olympic Steel (ZEUS)
+15.3% Planar Systems (PLNR)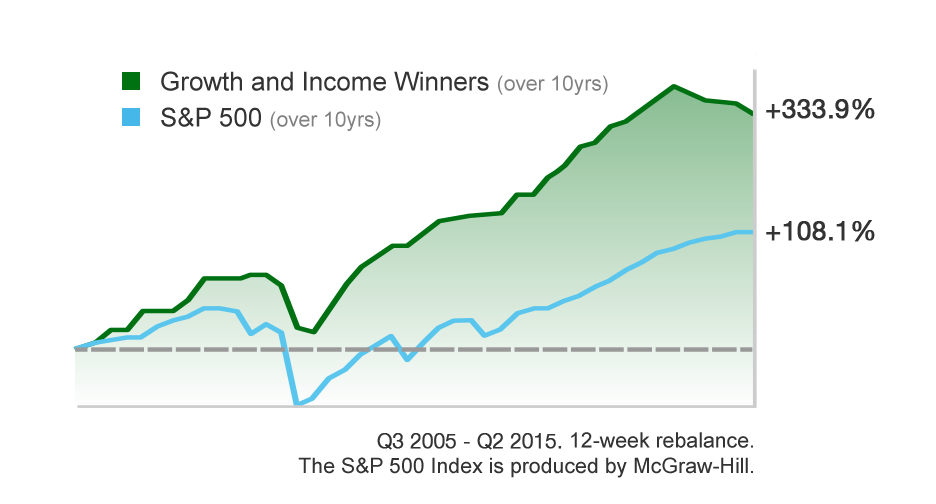 Growth and Income Winners is a conservative way to reach exciting gains. It combines strong fundamentals and high dividend yields on low beta stocks with a top Zacks Rank to more than double the market over the last decade. While the S&P 500 averaged +7.7% per year, this strategy averaged +15.8% per year. Over 10 years, this compounded to a gain of +333.9%. And even more remarkably, although there is always an element of risk with stock investments, those lofty gains were achieved at 31% less risk than the S&P.
Recent examples with 12-week holds:
+14.5% Raytheon (RTN)
+22.1% Cracker Barrel Old Country Store (CBRL)
+24.9% CVR Refining (CVRR)
Plus get everything you need to find your own winning stocks.
This home study program has already helped thousands of investors master the Zacks Method quickly and easily. Now you too can learn the "I AM" principle. Identify what kind of trader you are; Analyze stocks to find the ones with highest probability of success; Manage your assets to maximize profits and minimize risk. Look at all you get:
Quick Start Guide.
Home Study Course Workbook.
Video 1 reveals how the system outperforms the market.
Video 2 shows how to take full advantage of Zacks' most powerful stock strategies.
Video 3 helps you screen for stocks and create your own strategies.
Video 4 opens your eyes to how each new strategy would have performed in past markets.
Video 5 guides you through advanced backtesting techniques.
And more.
How much is all this worth to you?
This real-world help unlocks the full power of the Zacks Rank, and it can be worth untold thousands of dollars to your portfolio. But we are committed to carry out the life's work of our founder, Len Zacks and equip as many individual investors as possible with tools and insights for investment success.
So we will provide the Zacks Method for Trading home study course to you for only $39. This includes all our best strategies and their latest picks as well as the videos and guides. You can apply these tips and techniques to your very next trade.
Reviews from Traders
Who Use the Zacks Method
"It's like a license to print money."
"No benchmark stands a chance."
"I can't believe such a simple concept produces such great results."
Get all these free bonuses for taking part now:
Free Top 5 Valuation Secrets.
Free Strategies for Making Money No Matter What Happens to the Market.
Free 30-day access to the Zacks Research Wizard stock-picking and backtesting software.
Free copy of my hardbound book, Finding Number #1 Stocks.
Special free book and savings opportunity
ends Wednesday, December 2. Get in today.
Please call us Monday through Friday between 10 a.m. and 6 p.m. ET at 1.800.767.3771 ext. 9304. (Outside the U.S., 312.265.9304.)
Or get started online by clicking here right now >>.
You will be amazed. No matter where the economy heads, the Zacks Method can help you beat the market. From Day One, it will change the way you look at investing, just as it did for me.
Good Investing,

Kevin Matras
Vice President
P.S. I want to send you a copy of my hardbound book Finding #1 Stocks ($49.95 list price) absolutely free.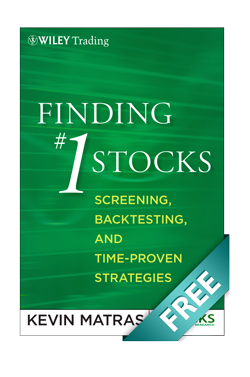 But the inventory on hand is limited. Your opportunity will expire when our supply is depleted or Wednesday, December 2, whichever comes first.
This book spells out just about every Zacks secret for successful investing. For example:
Page 55 opens the door to four unique Aggressive Growth strategies.
Page 125 shows you how to quickly spot the best sectors and industries.
Page 243 gives you three ways to sharply reduce your investment risk.