Zacks #1 stock picks are making mincemeat of the S&P 500.
Now you can get FOUR FREE every day.
While brokers and fund managers struggle to merely approach the S&P 500, one professional system has quietly outperformed it year after year.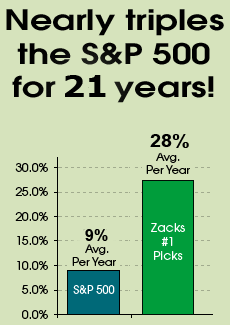 Right now, you?re invited to receive these S&P 500-crushing picks day after day.
Our free e-letter Profit from the Pros briefs you on up-to-the-minute investment insights and strategies ? and features four new daily stock picks. They?re from the Zacks Rank system that beat the S&P 500 for 18 out of the last 21 years. In fact, Zacks #1 picks have tripled the S&P 500, with an average annual return of 28%.
When Profit from the Pros arrives, you can first focus on your investment comfort zone: Aggressive Growth, Growth & Income, Momentum, or Value. Then zero in on its pick of the day.
Share Len Zacks? Breakthrough . . . Free.
Len Zacks, a PhD in Mathematics from MIT, made a landmark discovery in 1978. His research showed that revisions to earnings estimates were the single most important factor in predicting stock prices.
Next, he devised a mathematical model to harness the power of those estimate revisions. The system is utterly objective. It ranks each of 4,400 stocks #1 through #5, regardless of the hype and whispers of Wall Street.
Get Four Zacks #1 (Strong Buy) and #2 (Buy) picks every weekday.
Watch for picks like the ones that trumped the S&P 500. You?ll also be clued in on news, trends, strategies, insights, and more. Claim your free subscription to Profit from the Pros right now.