...and what this can mean for non-billionaires.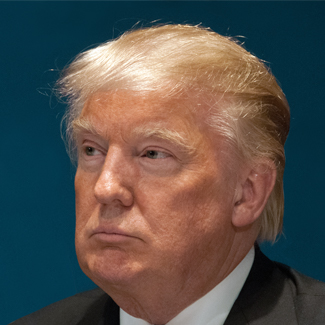 Back in 1988, Donald Trump was worth a mere $1 billion. By 2015, Forbes calculated his fortune at $4 billion.
He has deservedly won admiration for building an empire of enormous wealth, but let's take a closer look at this success.
Growth 1988-2015
Ellison
+14,658%
Soros
+8,245%
Gates
+7,027%
Allen
+3,122%
Buffett
+2,868%
Icahn
+2,102%
S&P 500
+713%
Argyros
+700%
Getty
+367%
Trump
+300%
Source: Business Insider
A study of the net worth growth of 51 billionaires from 1988-2015 shows Trump had the 9th poorest performance. His 300% growth over 27 years is far short of fellow titans like Larry Ellison, George Soros, Paul Allen, Warren Buffett, Carl Icahn, George Argyros, Gordon Getty, and Bill Gates (currently the world leader in net worth).
Trump Also Trails the S&P 500 Index
Meanwhile, the S&P 500 grew +713% over that same time period, more than twice the rate of growth that Trump enjoyed. This suggests that had he just bought the S&P 500 and golfed all day, his net worth would have grown to $8.13 billion…far above what it is today.
Even Better Investments: Zacks' 7 Best Stocks for June, 2016
We respect your privacy. No cost or obligation.
No credit or any form of payment needed.
Here's the Shocker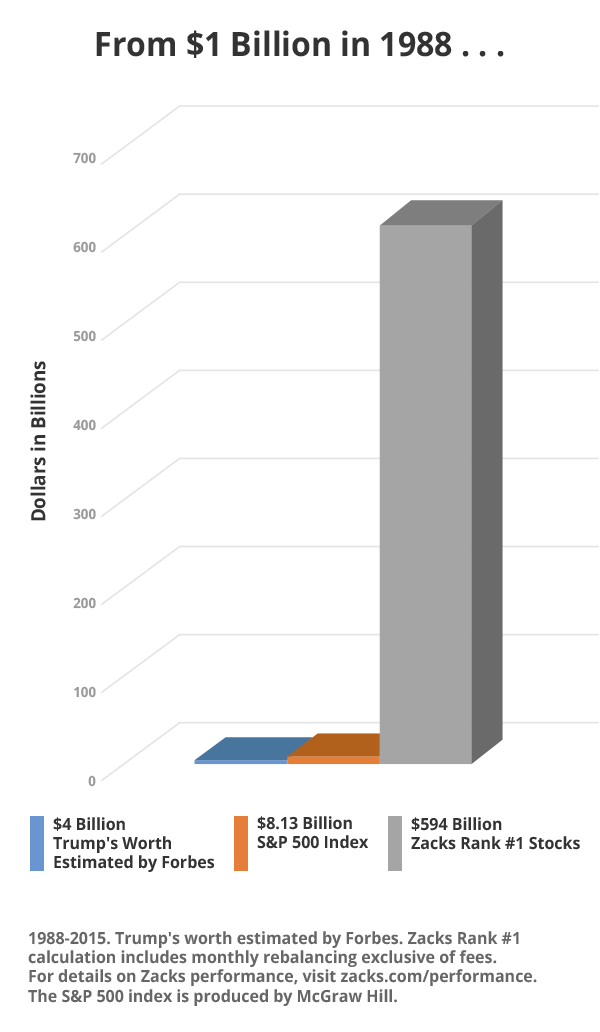 Now let's imagine that Trump did not just go for the average stock, but instead went for the best stocks.
As the chart demonstrates, if he only bought stocks with a Zacks #1 Strong Buy ranking (a popular signal used by many savvy investors), his fortune could have skyrocketed. It could have reached not $4 billion or $8 billion, but the much more impressive sum of $594 billion, making him the richest man on the planet.
So what does this mean for those of us who don't have a cool billion in investable assets?
Even if you just put $10,000 into Zacks #1 Ranked stocks back in 1988, it could have exploded to $5,940,535 today.
What makes a number like that possible?
Strong Buy #1 stocks pinpointed by Zacks Investment Research have averaged gains of +26% per year, which nearly triples that of the S&P 500. These returns were examined and attested by Baker Tilly Virchow Krause, LLP,* an independent accounting firm.
RECOMMENDED: Zacks' 7 Must-Own Stocks for June, 2016
The secret behind that performance was discovered decades ago. While Trump was laying the groundwork for skyscrapers and casinos back in 1979, Zacks launched the quest for the most powerful force impacting stock prices.
After years of research, combing through hundreds of factors, they ultimately found that "Earnings Estimate Revisions" are the key to outperformance. The Zacks Rank formula was developed to harness the power of these earnings revisions. Its +26% per year returns stand in testament to its effectiveness.
However, at any given time there are 220 Strong Buys. Few investors can devote the hours and dollars to add all of them to their portfolios. That is why Zacks has just released a Special Report that culls them down to a manageable number.
What the Research Shows Now
Today's report spotlights 7 Strong Buys hand-picked by experts as most likely to break out the soonest. Only available temporarily, these trades could provide a substantial jump-start toward building your fortune at a much faster pace than Donald Trump or even the S&P 500.
Enter your email below to access Zacks' 7 Must-Own Stocks for June, 2016 absolutely free.
We respect your privacy. No cost or obligation.
No credit or any form of payment needed.