FREE: Subscribe to Zacks' Profit from the Pros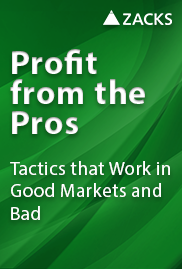 Each morning, this e-newsletter brings valuable investment information to enhance the portfolios of several hundred thousand investors like you.
Zacks Bull & Bear Stock of the Day from the system that nearly triples the market with an examined and attested average gain of +26% per year. Zacks' performance was rated #1 in quantitative research by Investars.com over
the past 5 years (12/31/2010-12/31/2015).
Latest Expert Market Commentary. Constantly updated insights and developments.
Plus: Strategies for picking the strongest stocks, funds, and options. Best earnings stocks and more.
No cost. No credit card. No obligation to buy anything ever.
Profit from the Pros Investment Newsletter Archives
Start your free subscription by clicking the button above.