Zacks Rank #1 Strong Buys
Zacks Ranks
Industry Rank
Zacks Industry Rank Analysis:
Mutual Fund Rank
The Zacks Mutual Fund Rank is a rating system that will help you find the best mutual funds to outperform the market. It is not just focused on past performance, but the likely future success of the fund. Learn more.
The Zacks Rank is Your Trading Advantage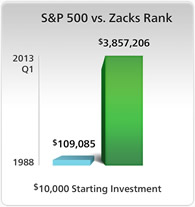 In 1978, Len Zacks hit upon a key discovery: earnings estimate revisions are the most powerful force impacting stock prices. With this crucial finding, he developed the Zacks Rank to harness the power of earnings estimates. The average yearly gain for Zacks #1 Rank Strong Buy stocks is +26% per year. These results were confirmed by an independent accounting firm, Baker Tilly, who completed an extensive examination of Zacks Rank returns over a period of more than 25 years.
The Zacks Rank is a reliable tool that helps you trade with confidence regardless of your trading style and/or risk tolerance. To learn more about how you can use this proven system for market-beating gains, visit Zacks Rank Education.