Trading Style: Growth
One of the keys to successful trading is to get into stocks that are in alignment with who you are as a trader. Gladly most people fit into one of the four main investing styles: Growth, Value, Momentum and Income. This page is dedicated to the growth style. Watch the short video below and read education material underneath to learn the habits of successfully trading with growth stocks.
Big Growth For Big Returns
Growth traders are primarily focused on stocks with aggressive earnings growth or revenue growth (or at least the potential for aggressive growth), which should propel their stock price higher in the future.
"Growth traders are primarily focused on stocks with aggressive earnings growth or sales growth, which should lead to higher stock prices."
You'll often find smaller-cap stocks in this category because these are typically newer companies that are in the early part of their growth cycle. But you'll also find plenty of mid-caps and large-caps too.
By concentrating on Zacks Rank #1 and #2 stocks, growth investors can easily screen for companies exhibiting these stellar growth rates with a likelihood of it continuing.
The best part of the Zacks Rank is its ability to alert investors, at the earliest stages, that a company's prospects are looking very bright. And getting in early on an emerging growth story generally leads to strong investment returns.
Caution
Many growth investors, however, make the mistake of looking for stocks with the highest growth rates possible. Unfortunately, many such companies underperform in spite of their outsized growth rates.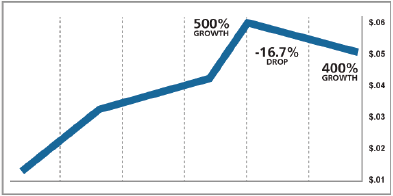 How can this be? Often it's because those sky-high levels of growth are unsustainable. And the stocks are priced for perfection.
For example, a company earning 1 cent a share that is now expected to earn 6 cents, has a 500% growth rate. But, if it receives a downward revision to 5 cents, that's a significant drop. Even though it still has a 400% growth rate, the estimates were just reduced by -16.7% and the price is likely to follow.
If you've ever wondered how a stock with a triple digit growth rate could possibly go down? That's how.
Finding Growth Stocks the Right Way
The Zacks Rank, which keys in on earnings estimates revisions, rather than growth rates in absolute terms, guards against that to find the stocks with the best growth prospects that are continuing on the upswing.
The Growth Score further evaluates companies based on their corporate financial statements, which includes the Income Statement, Statement of Cash Flows, and the Balance Sheet, amongst others. Those with a Growth Score of A or B are deemed the strongest and are expected to yield the highest return over the next 1-3 months for investors.
Take note that the Zacks Rank and the Zacks Style Scores, also work together to notify investors at the first sign of weakness (Zacks Rank of #4 or #5, and a Score of D or F), providing the opportunity to lock-in profits and avoid unnecessary losses.
"Your portfolio is hands down better than any other I have tried."
- Christopher M. of York, ME