Trading Style: Momentum
One of the keys to successful trading is to get into stocks that are in alignment with who you are as a trader. Gladly most people fit into one of the four main investing styles: Growth, Value, Momentum and Income. This page is dedicated to the Momentum style. Watch the short video below and read education material underneath to learn the habits of successfully trading with momentum stocks.
The Trend is Your Friend
Momentum traders and investors look to take advantage of upward trends or downward trends in a stock's price or earnings.
"Momentum traders look to take advantage of trends in price or earnings, with the expectation that the stock will continue in the same direction because of the momentum that is already behind it."
Momentum traders believe that these stocks will continue to head in the same direction because of the momentum that is already behind them.
We've all heard the old adage, the trend is your friend. And who doesn't like riding a trend? In fact, studies have shown that stocks making new highs have a tendency of making even higher highs.
The Zacks Rank #1 stocks are ideally suited for folks who rely on momentum or technical analysis because it can tip them off before most other systems.
Cause and Effect
Rather than simply looking for price trends, the Zacks Rank is about cause and effect.
The cause of the move is positive revisions in earnings estimates. This upward shift in earnings estimates prompts more and more investors to take an interest in the company with the effect being that the shares in the company start on a bull run. Volume increases, as does the stock price.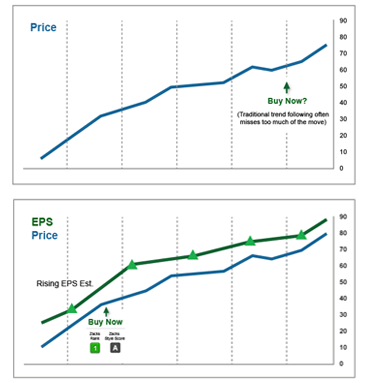 But simply relying on price movement alone, doesn't alert investors until after the move has already begun, costing active traders opportunities to maximize profits.
Conversely, by focusing on earnings estimate revisions, the Zacks Rank can identify stocks that are likely to move up in the future - before the breakout has occurred!
In other words, the Zacks Rank helps traders get in ahead of the price action.
Stocks On the Move
Momentum stocks typically have a higher degree of volatility which is the rate at which a stock moves up or down. While some investors may be put off by the faster pace of some of these types of stocks, the momentum trader expects the gains made because of this to make it all worthwhile.
It should also be noted that it's not uncommon for a momentum stock, which is typically also experiencing earnings momentum as well, to be trading at higher valuations (like a higher P/E ratio). This make sense, especially if earnings are accelerating, as investors are willing to pay up a little more for a stock like this, for fear that if they wait, they'll have to pay even more later on. And that's OK, as long as the momentum continues.
Of course, nothing goes up forever. But, by combining the Zacks Rank #1's and #2's (which keys in on earnings estimate revisions), and the Zacks Styles Scores of A and B (which analyzes the stock's price movement and earnings momentum), you'll know when the timing is right to get in, and stay in.
Likewise, those with a Zacks Rank #4 or #5 with a Score of D or F are your best cues to get out. That means estimates are now heading down, with the stock's momentum indicators cooling off as well.
The Zacks Rank can identify stocks that are likely to move up (or down) in the future while the Momentum Style Score will tell you which ones have the best momentum attributes to maximize your gains.
"I have tried numerous services in the past...and I have found the Zacks #1 stock picks especially good for my portfolio."
- Noel Horkan of New Windsor, NY