Getting Started
You are about to embark on an exciting journey. A journey that changes the way you look at investing and gets you on the road towards continual success. This page shows you the profitable and easy way to harness the power of Zacks Premium and our Zacks Rank stock-rating system. The same system that has generated a 25% average annual return since 1988. So let's get started!
If you aren't a Zacks Premium member, you can start your free trial now.
---
Step One: Analyze Your Stocks
The easiest way to analyze the current rank for your stocks is by using the Zacks Premium Portfolio Tracker. If you don't already have one set up, the follow these steps:
"Create a New Portfolio" Name it and insert your stocks.
View the Zacks Rank and Style Scores for all your stocks.
When finished, you will see an online display like the one below with all your stocks.

View Larger Image ?
From this page you can quickly see which stocks need to be sold:
Zacks Rank #4 and #5 sell-rated stocks.
Those with a Style Score of D or F for the style that matters most to you.
Why sell these stocks? Because history shows that these poorly rated stocks dramatically underperform the market. Therefore you should replace them with better stocks that should excel in the future. The next section shows you how.
---
Step 2: Choose Better Stocks
We have many great tools in Zacks Premium to help you find the best stocks. Below are the 3 most popular methods.
Other Popular Zacks Premium Tools
Zacks #1 Rank List: Here you will find all current #1 stocks. Note that newly crowned strong buy stocks have the most upside potential. That is why the page is defaulted to show you those stocks first. To view the stocks by any of the other criteria just click the column headers and the page will resort. Plus you will find tabs that will show you the best #1 ranked stocks by investment style: Growth, Value, Momentum and Income.
Zacks Industry Rank: For many investors, the journey to choosing the best stocks starts by choosing the best industries. The Zacks Industry Rank sorts stocks into 264 different industry classifications. Do not feel that you need every stock in the #1 or #2 industry. Just concentrate your selections in the Top 50% of industries and that will greatly improve your odds of success. Once you have targeted those top industries, be sure to select the best #1 ranked stocks in that group.
Zacks Premium Screens: Not every #1 stock is suited for the way you like to invest. Some of you may want to consider different attributes when selecting stocks. Exclusive to Zacks Premium are nine diverse stock-picking strategies that have outperformed the market since 2001. These strategies are proven to work in good markets and in bad, and are updated daily on the site.
Start by exploring these 3 popular tools to choose better stocks for your portfolio. Once you have made your selections, then place equal dollar value trades with your broker. (ZacksTrade is an online discount brokerage firm you may want to consider in order to keep your transaction costs low).
---
Step 3: Track Your Stocks
This is the easiest step of them all. Now that you have completed Step 2, just enter your new stock selections in your Zacks portfolio tracker (which is already set up since you went through Step 1 earlier).
Once you have a portfolio established on Zacks.com, then we will start sending you Zacks Premium Daily Portfolio Update emails every morning. Truly it will take you just 1 minute a day reviewing this email to know which of your stocks to buy, sell or hold.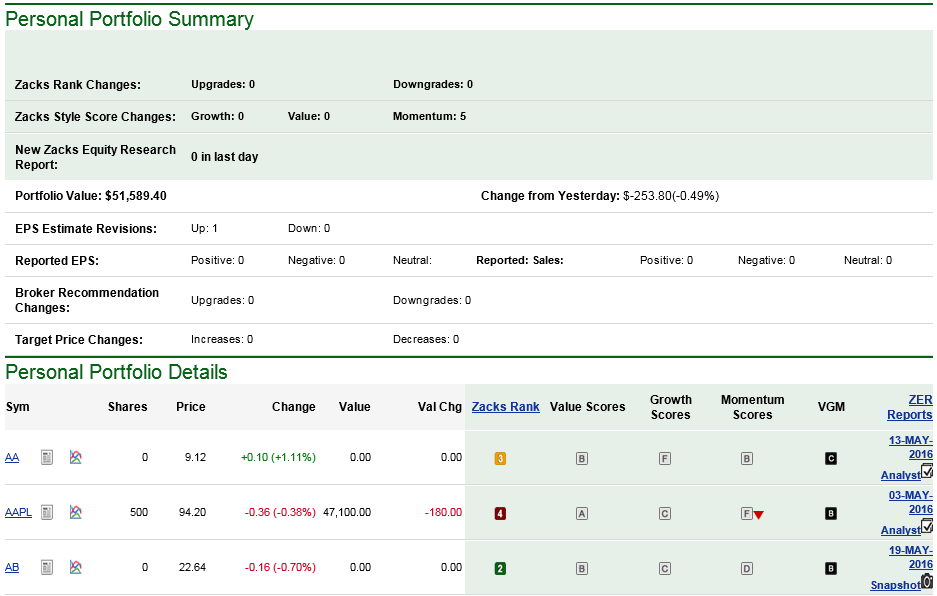 View Larger Image ?
Beyond daily price changes, this update will also tell you:
Zacks Rank changes
Style Score changes
Earnings surprises
Estimate revisions
Broker rating changes
And more...
Zacks Premium is a great first step in securing your financial future. We will be right there beside you every step of the way, but if you have any questions concerning Zacks Premium or how to use the Zacks Rank, then please contact our customer support team at:
Email: support@zacks.com
Phone: 800.767.3771 Ext.9339 (Outside the US call 312.265.9339)
We look forward to sharing investment success with you for many years to come.