Stock Screening Education
Screening by Ownership (Institutional Ownership and Insider Trading Statistics)
The quality of ownership of stock in a company (who's buying and selling the stock) can be a powerful force in a company's future price action.
Institutional ownership for instance is an often looked at item. It's significant in that Institutions are generally considered 'strong hands' with extensive research facilities, access to management and sophisticated money managers.
Insider Trading is another much looked at item too. In fact, Insider Trading has fascinated investors for years.
By the way, we're not talking about the kind of trading that'll get you locked up.
We're talking about the buying and selling of stock by the decision makers who run a company.
The assumption is that insider actions predict future stock moves because of the greater knowledge about a company that insiders possess. It's important to note that some forms of insider trading are perfectly legal.
According to the SEC website (http://www.sec.gov/answers/insider.htm) "The legal version is when corporate insiders — officers, directors, and employees — buy and sell stock in their own companies. When corporate insiders trade in their own securities, they must report their trades to the SEC."
It is the compilation of these SEC filings that makes these ownership statistics (Insider Trading activity) possible.
And using these statistics in your screening can help identify significant changes in Insider ownership.
Criteria Defined
Zacks users can screen for ownership of a stock five different ways:
% of the stock held by Insiders (The % of stock owned by Insiders.)
Net % change in Insider Holdings (12 weeks) (The net change (increase or decrease) of Insider Ownership over the last 12 Weeks)
# of Insider Buyers (12 weeks) (Number of Insider buying stock over the last 12 weeks)
# of Insider Sellers (12 weeks) (Number of Insiders selling a stock over the last 12 weeks)
% held by Institutions (The % of stock owned by Institutions)
How to Use
Looking for stocks with good Institutional ownership (sometimes referred to as sponsorship) makes sense. Big Institutions make their living buying and selling stocks trying to make money. And if they're buying a stock, it's often interpreted that they believe the company's financial health and future look strong.
If a company has very little or no Institutional sponsorship, it could be inferred that someone looked at it and decided to pass.
However, too much ownership could be worrisome in that if something goes wrong with the company and all the institutions start selling, it could quickly sink a stock.
(Also, separately, if Institutional ownership is extremely high, how much of an increase in ownership can one realistically expect to see?
As for Insider activity; screening by Insider ownership can quickly isolate companies where management has a significant stake in the company's well-being. Simply look for companies with a large % of the stock held by insiders.
As with most screens, raw % of ownership might help you to narrow down your choices, but it's really the change in ownership that is potentially indicative of future price change.
Thus, the criteria "Net % change in Insider Holdings (12 weeks)" is particularly important. Again, this shows the net percentage change in Insider Holdings over the past 12 weeks, potentially alerting a savvy screener to changes in a company's fortunes.
The number of Insider buys and sells during the last 12 weeks can give you a feel for which companies are under accumulation by Insiders and which are under liquidation.
There are some caveats here though. Pay particular attention when you see heavy liquidation to the stock's recent price action. Has it had a dramatic move up? If so, consider that many Insiders may be cashing in holding simply to fund personal activities like home ownership and college educations rather than because of a perceived change in the company's outlook.
Also, be aware that many new companies grant stock options to key employees during the IPO period, but prohibit vesting or selling of those options for one or more years. Has your screen detected a company with heavy insider selling near the one year anniversary of the IPO? The two year anniversary? Consider that this may be indicative of options vesting rather than ominous company prospects.
In fact, many investors consider sales of stock by Insiders to be an unreliable indicator of future stock action simply because there are so many varied reasons that corporate insiders may need funds.
Insider buying, however, is a different animal.
The sole reason to buy company stock is to make money on future price increases, thus increases in Insider buying can be a powerful indicator.
The Ownership criteria can be found on www.zacks.com in the Screening Section (Custom Screener) under the Ownership Category.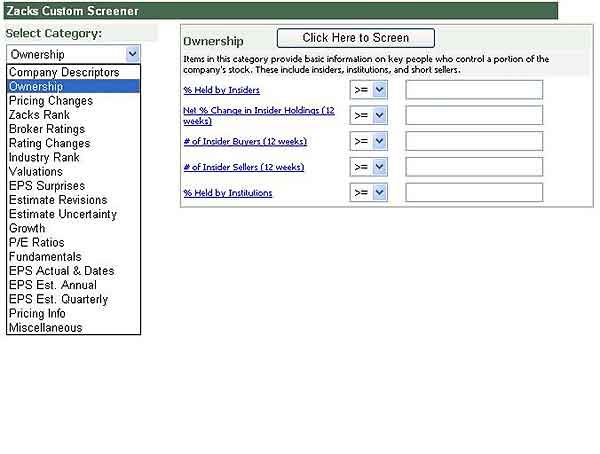 Improving Your Ownership Screening Results
Using Zacks' Research Wizard program, investors can also screen for:
Insider Buying and Selling (and Net Changes) over a 24-week period
This additional period effectively gives you a window into two 12-week periods.
For example: (first let's assume you're screening for a positive % Change in Insider Holdings) – if the Net % Change in Insider Holdings over 24 weeks is twice the % Change over 12 weeks, you now know that there's been two 12-week periods with a meaningful increase in Insider buying.
(This ensures that the recent 12-week period wasn't preceded by Insider selling prior to that.)
Moreover; if the Net % Change in Insider Holdings over 12 weeks is greater than the difference between the % Change of 24 weeks and 12 weeks, you now know that there's been a sequential increase in Insider buying from this 12 week period over the last, further confirming that Insider buying is on the rise.
You can also compare a company's Insider buying and selling to the market as a whole or in relation to its Sector or Industry.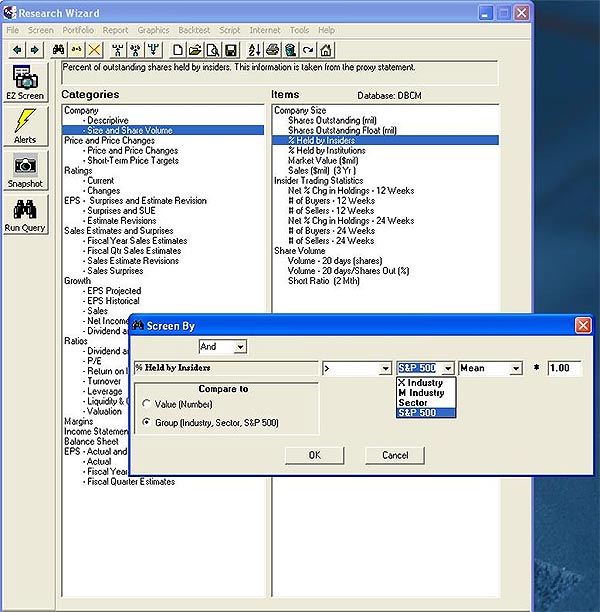 Conclusion
Frequent screening for stock ownership changes in a company (Institutional Holdings and Insider Buying and Selling), can be a powerful "first alert" of potential changes in a company's fortunes.
Resources
Free Screener on Zacks.com: Start screening with ownership along with 95 other criteria to find stocks that meet your needs.
: There is simply no better tool to create and backtest winning screens than with Research Wizard. Along with Ownership, you'll have more than 650 different items to choose from along with access to some of our best proven, profitable strategies.