Stock Screening Education
Screening With Return on Equity (ROE)
Return on Equity (or ROE) is a commonly used measure of management efficiency. It's a favorite screening criteria of many money managers and investors because it tells them how successful a company is at using its shareholder's capital.
Moreover, companies with steadily increasing ROE's are generally well managed where attention is being paid to the details.
Criteria Defined
Return on Equity shows how much profit a company is making on its shareholder equity.
The formula for ROE is calculated as:
Income (before non-recurring items) / Average Shareholders Equity (past 12 months)
The Income number for a company listed on the Income Statement. Shareholders Equity is the difference between Total Assets and Total Liabilities and is found on a company's Balance Sheet.
(Investors doing their own calculations for ROE need to ensure that the time periods for Income and Average Shareholder Equity are the same.)
ROE is always expressed as a percentage.
A company with an ROE of 10% for example means it created 10 cents of assets for every one dollar of shareholder equity in a given year. Thus a company with a 20% ROE might be assumed to be using its equity twice as efficiently as a company with a 10% ROE.
ROE is a simple and effective item to screen for.
And while bigger is often better, this isn't necessarily true all of the time. There can be other factors to consider in the calculation. A company with a high ROE may be generating a high return on assets, but it also might be doing so by making excessive use of debt.
Another factor to consider is that Intangible Assets (such as trademarks or franchises) are excluded from Shareholders' Equity. Thus companies with large amounts of Intangible Assets may have distorted ROE's.
How to Use
ROE (as with all screening criteria), should be used to narrow down a list of stocks for further review. The ROE criteria can be found on www.zacks.com in the Screening Section (Custom Screener) under the Fundamentals Category.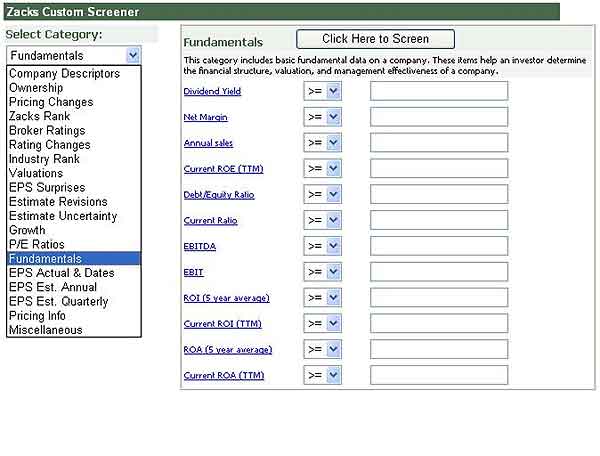 Improving Your ROE Screening Result
It's also helpful to compare a company's ROE over a period of time. Is it increasing? Then perhaps management is doing a better job. Is it decreasing? Then perhaps management isn't paying enough attention.
Part of your screening and review should consider:
How the company's ROE compares with its own ROE in past periods
This can be done in Zacks' Research Wizard program by comparing a company's current ROE to its ROE from a previous time period. Or by screening for a change in the company's ROE compared to its average ROE over the last 5 years.
It can be used even more effectively when:
The ROE is compared to other companies in the same Sector or Industry
This would be done by looking for companies that have ROE's that are greater than the average for their Sector or Industry.
Most investors clearly understand that some industries require greater assets than others. Take for instance the Steel Industry versus the Software Industry for an extreme example. (Steel has a median ROE of 23% while the Computer Software-Services has a median ROE of 7.)
And if you screened for only absolute numbers, you may miss some great stocks in some great groups.
So trying to find companies with the best ROE's relative to their group (Sector or Industry etc.) is one of the best ways of making an apples to apples comparison in an effort to find the top stocks.
This too can be done in the Research Wizard.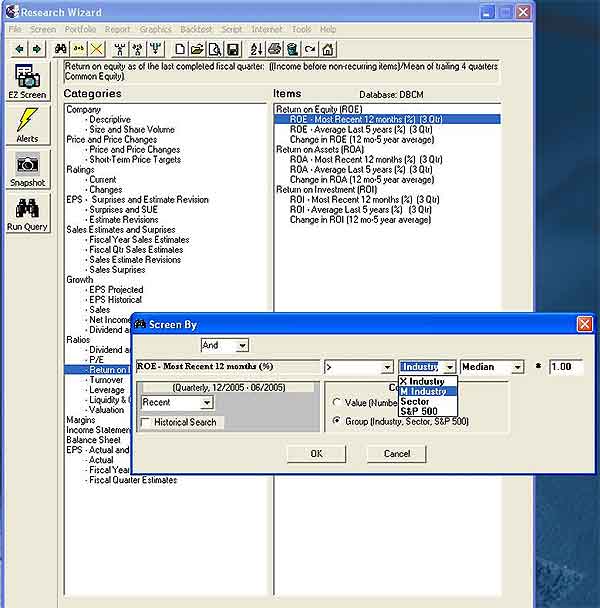 Conclusion
ROE can be a powerful screening criteria for investors in measuring how effective management has become and how profitable they are in using investors' cash.
And better understanding the factors that affect ROE and how to best use it will help make this criteria even more valuable to you.
Resources
Resources
Free Screener on Zacks.com: Start screening with ROE along with 95 other criteria to find stocks that meet your needs.
ROE Strategy on Profit Tracks: Profit Tracks is a compilation of 9 unique screens hand picked to potentially outperform the market in the years ahead. The Return on Equity strategy is one of the 9 screens. See all the current stocks.
Research Wizard: There is simply no better tool to create and backtest winning screens than with Research Wizard. Along with Return on Equity, you'll have more than 650 different items to choose from along with access to some of our best proven, profitable strategies.