Where Do Earnings Estimates Come From
Where Do

Earnings Estimates

Come From?

The best and most widely used source of earnings estimates comes from the brokerage analysts who track these publicly traded firms. These analysts work hand in hand with company management, and independently, to analyze every aspect that may affect future earnings.

Analysts are paid in aggregate, over $1 billion a year to analyze stocks. They must know something - and they do. The typical analyst at a brokerage firm will work 80 hour weeks, devoting all his or her time to, at most, maybe 20 companies. And many companies are followed by 5 to 10 analysts or more (30 or 40 for the biggest ones). One of their main tasks is to determine what a company's earnings will be. This is where they excel; not in their ratings, but in their earnings estimates (also known as earnings per share or EPS estimates).
Consensus Estimates
From these individual analyst estimates, Zacks creates a consensus EPS estimate, which is the average of all estimates made within the last 120 days (older estimates are not included).
Zacks calculates this consensus estimate for each of the next four quarters, each of the next three years, and as a growth rate over the next five years. These consensus estimates are the benchmark by which the company will be judged by the investment community.
Earnings Estimate Revisions
When trying to determine the future direction of a stock's price move, you need to look at what a company will earn in the future. This is why earnings expectations or earnings estimates are so important. And it's the change in the earnings estimates (earnings estimate revisions) that have proven to be the most important.
This is because stocks that receive upward earnings estimate revisions are more likely to receive even more upward earnings estimate revisions in the future. This is true because many analysts will revise their earnings estimate slowly and incrementally.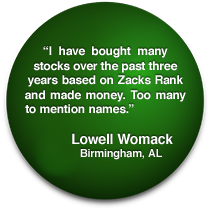 For example, if an analyst raised his earnings estimates last month, he's more likely to do it again this month, and the other analysts are likely to do the same Since stock prices respond to earnings estimate revisions, it's very profitable to buy stocks whose earnings estimates are being raised. And by getting into stocks whose earnings estimates are being raised, you're likely getting into companies whose future earnings estimates will be raised as well, potentially influencing stock prices even more.