Zacks ETF Rank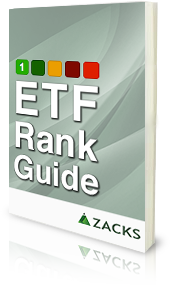 Our Zacks ETF Ranking system was designed specifically for Exchange-Traded Funds in order to help you pick the best product for your investing needs. Not only does this system take into account asset class forecasts, but it looks at several ETF specific factors, such as expense ratios and bid-ask spreads, to give investors a comprehensive account of a fund's investment profile.
This Ranking method is built for a one year outlook and seeks to find ETFs that are likely to outperform. The funds are ranked on the traditional Zacks Rank scale of #1 (Strong Buy) to #5 (Strong Sell), and we currently evaluate a variety of funds across asset classes including equities, commodities, fixed income and currency.
ETF Research
ETF Reports
Get our free, detailed ETF reports on some of the most popular and in focus funds in the market to conveniently stay informed regarding holdings, performance, and fund history.
Top ETFs:
View ETFs by Category
ETF Resources
ETF Screener
With more than 1,500 ETFs currently on the market, how do you narrow down the list? Use one of our ETF screens to find the cheapest, most popular and highest yielding funds on the market today.